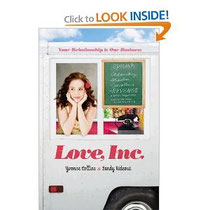 Love, Inc.
Written and Review by Yvonne Collins and Sandy Rideout
Zahra, Kali, and Syd would never have met if their parents' marriages hadn't fallen apart. But when the three girls collide in group counseling, they discover they have something else in common: they've each been triple-timed by the same nefarious charmer, Eric, aka Rico, aka Rick. Talk about eye-opening therapy.
Cheerful, diplomatic Zahra is devastated. Rico had been her rock and sole confidant. How could she have missed the signs? Free-spirited, flirtatious Kali feels almost as bad. She and Rick hadn't been together long, but they'd felt so promising. Hardened vintage-vixen Syd is beyond tears. She and Eric had real history... Or so she'd thought. Now all three girls have one mission: to show that cheater the folly of his ways.
Project Payback is such a success, the girls soon have clients lining up for their consulting services. Is your boyfriend acting shady? Are you dying to know if your crush is into you? If you need a little help to make-up, break-up or meet someone new, look no further than Love, Inc.
Lockdown by Walter Dean Myers
Review by Ian Chipman for Booklist
Myers takes readers inside the walls of a juvenile corrections facility in this gritty novel. Fourteen-year-old Reese is in the second year of his sentence for stealing prescription pads and selling them to a neighborhood dealer. He fears that his life is headed in a direction that will inevitably lead him "upstate," to the kind of prison you don't leave. His determination to claw his way out of the downward spiral is tested when he stands up to defend a weaker boy, and the resulting recriminations only seem to reinforce the impossibility of escaping a hopeless future. Reese's first-person narration rings with authenticity as he confronts the limits of his ability to describe his feelings, struggling to maintain faith in himself; Myers' storytelling skills ensure that the messages he offers are never heavy-handed. The question of how to escape the cycle of violence and crime plaguing inner-city youth is treated with a resolution that suggests hope, but doesn't guarantee it. A thoughtful book that could resonate with teens on a dangerous path.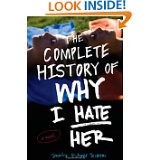 The Complete History of Why I Hate Her
Written by Jennifer Richard Jacobson/Reviewed by Francisa Goldsmith
Seventeen-year-old Nola is working as a waitress in a Maine resort for a summer away from home. This means she has left her 13-year-old sister, a cancer patient to whom she is credibly devoted, at home while she explores her own life. When she first meets a peer named Carly, no red flags go up, but as the summer goes on, Nola becomes acutely aware of Carly's manipulations of others in order to acquire, chameleon-like, their hairstyles, boyfriends, even, apparently, little sisters. When Nola's little sister shows up in Maine, it appears as though she has come at Carly's beckoning. Nola struggles to regain control of her own feelings about the teens in Maine and her physically fragile sister's needs. Although not all of the characters here are fully developed, Nola's sister is well constructed and offers some good insights, sometimes in haiku and sometimes in conversation, and teens anxious for friends would be wise to recognize Carly as potentially dangerous. A compelling story of self-discovery with plenty of insights into the motivations that drive relationships.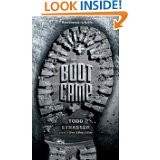 Boot Camp
Written by Walter Dean Myers/Review by Lynn Rashid
In this vivid and realistic novel, Strasser describes the horrifying violence and injustices experienced by teens sent to a disciplinary boot camp at the behest of their parents. Abducted by transporters in the middle of the night, 15-year-old Garrett finds himself handcuffed in the back of a car trying to make sense of why he is being sent to a facility for troubled teens. Convinced that he does not belong in Lake Harmony, he has difficulty conforming to the camp's standards. As a result, he is subjected to continuous physical and mental abuse. Drawn in by two other students, Garrett takes part in an ambitious plot to escape this never-ending "behavior modification." Throughout the story, readers are given a strong sense of the hopelessness the teen feels, especially when he realizes that he is completely isolated from anyone who can help him. The ending is both realistic and disturbing as his fate at Lake Harmony is revealed. Writing in the teen's mature and perceptive voice, Strasser creates characters who will provoke strong reactions from readers. While most teens will undoubtedly identify with the protagonist's sense of being misunderstood by his parents, many will be outraged by the manipulation, torture, and hopelessness experienced by the residents at Lake Harmony. However, all of them will certainly find themselves engrossed in this fast-paced and revealing story about the hidden side of teenage incarceration.
Ash 
A Cinderella Fairy Tale
a review by Ed Goldberg
January 04, 2010 - Ash by Malinda Lo is a new twist on the Cinderella fairy tale. Aisling's (Ash) mother dies when she is twelve. She misses her dearly. As in the Cinderella story, Ash's father remarries, this time to Lady Isobel who has two daughters, Ana (the favored daughter) and Clara. Ash's father gets... [read more]
The Ultimate Disappearing Act
a review by Ed Goldberg
According to Omnictionary, a Paper Town is "a town that does not physically exist". What does that mean? According to Margo Roth Spiegelman, her home town of Orlando is a paper town populated with paper people, whose aspirations are paper thin. She has been trying to run away from her paper town for years, disappearing for days at a time and roaming the county. This time, it appears she's disappeared for good. Did she run off to a paper town?  . . .
A Deadly Reality Show
a review by Terry Miller Shannon
Katniss Everdeen, a sixteen year old living in what used to be the USA, feeds her family by sneaking into the forbidden woods with her friend Gale. The two hunt game, fish, and glean fruit, veggies, and herbs. They eat the food but they also use it to barter for basic necessities. Katniss and Gale live in the poverty-stricken District 12, one of the areas surrounding the country of Panem's capitol. Although there isn't a romantic connection, Katniss knows that deep down she has tender feelings for Gale. . .